Hi and Salut!
Here's the Atlantico, Rome 7 Sept 2009 radio show full broadcast.
There are several DJ's comments and talks during the broadcast
not just between the songs but sometimes also during the songs but the show it's very pleasant the same.
Enjoy it!
Best Regards et sinceres salutations.
Paolo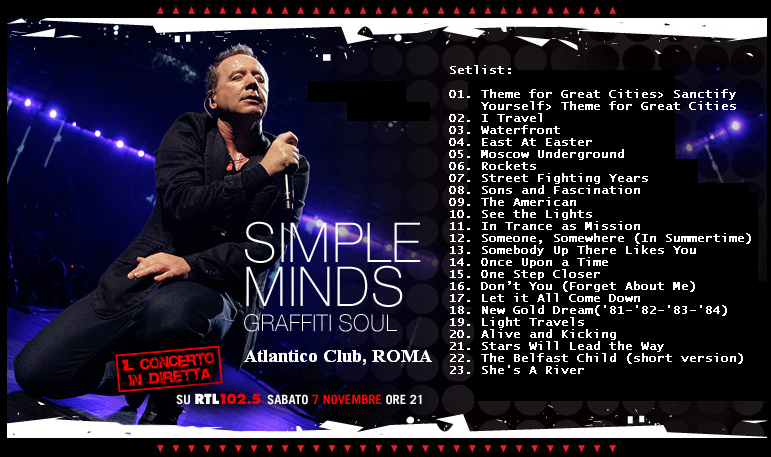 Date: 2009/11/07                                                                                                          
Lieu: Roma, Atlantico Club - ITA
Posté par: neverstop
Taper: neverstop
Source: FM Radio broadcast
Remastering: no
Qualité: very good (lots of Radio DJs talks)
Concert: complete broadcast
Durée: 120min
Artwork: no
Setlist:
01. Theme for Great Cities> Sanctify Yourself> Theme for Great Cities
02. I Travel
03. Waterfront
04. East At Easter
05. Moscow Underground
06. Rockets
07. Street Fighting Years
08. Sons and Fascination
09. The American
10. See the Lights
11. In Trance as Mission
12. Someone, Somewhere (In Summertime)
13. Somebody Up There Likes You
14. Once Upon a Time
15. One Step Closer
16. Don't You (Forget About Me)
17. Let it All Come Down
18. New Gold Dream('81-'82-'83-'84)
Encore(s):
19. Light Travels
20. Alive and Kicking
21. Stars Will Lead the Way
22. The Belfast Child (short version)
23. She's A River
Lien de téléchargement:
http://www.megaupload.com/?d=M8GKRP6C
Please don't sell it or use it to make any kind of profit.
Go to Simple Minds GS Tour concerts.
Buy Simple Minds GS Tour official recordings for a much better quality sound.


_________________
Measure by measure, drop by drop. And pound for pound, we're taking stock
Of all the treasure still unlocked. The love you found must never stop.